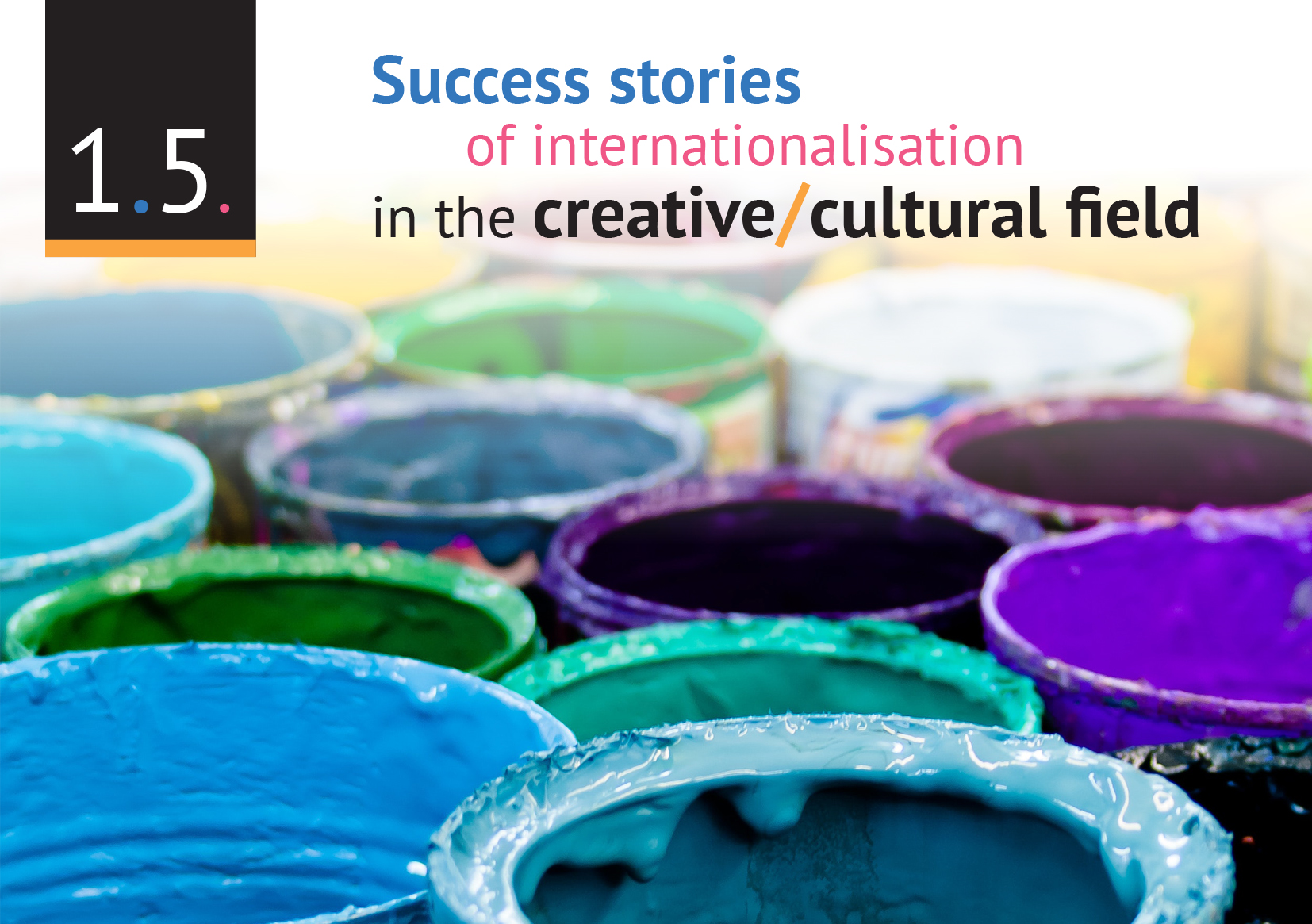 Now that the concept of internationalisation is clear, here you can find some notes about creative women that have succeeded in internationalising their art business.

1.5.1 Paulina Ortiz
Paulina Ortiz, born in Costa Rica, has developed her career in the country where she was born. Her work is based on textile creations, ranging from design to creation.
She studied an artistic baccalaureate at the California School of Art, with a specialty in textiles, and studied her bachelor's degree at the National University of Costa Rica, where she currently teaches textile art and design. Her professional experience includes textile consulting, art and interior design, architecture and collectors. She has exhibited and given international talks, her work has been published in more than 65 books and international magazines such as Textile Forum and Fiberarts and Embroidery.
https://paulinaortiz.com/es/biografia/
1.5.2 Cecilia Paredes
The creations of the artist Cecilia Paredes are characterized by including people within her works.
This is her main element in creations since she uses her body as a tool and as an element to capture the attention of observers
The practice of using the human body in her works have allowed her a special artistic sensibility towards textures, materials and spaces. This sensitivity is reflected in a large part of her works, which use textile materials that merge with her body.
These works require great technical knowledge to ensure that the fabrics are mimicked with the body in the image, the natural with the artificial, until they reach an innovative effect so that the two elements can be appreciated as a single entity.
The artist lives and works between Pennsylvania, Costa Rica and Peru. Her works have been exhibited in important halls in Havana, Venice, as well as in numerous collective exhibitions in the USA, Spain, Italy, Russia, Peru and Central America.
https://www.elperiodico.com/es/port/arte/20190405/impactante-arte-retorno-cecilia-paredes
1.5.3 Cristina Iglesias
Cristina Iglesias is a Spanish sculptor recognized for her artistic work distributed by museums and spaces around the world.
Born into a family where the five brothers have been artists, she began studying Chemistry, a career she left to go to Barcelona where she practiced drawing and ceramics for a while, after realising that art was her passion. Afterwards, she studied Sculpture at the Chelsea School of Art in London.
After finishing her studies in the UK, she obtained a scholarship to live and study in New York. In the 80's she began to carry out individual exhibitions in Spain and Portugal, which allowed her to have more international relevance.
Her international recognition allowed her to begin to make more international exhibitions. She was very successful in Switzerland and also in Sydney.
Later she had the opportunity to exhibit in the United Kingdom and the United States. Finally, she was awarded the Premio Nacional de Artes Plásticas in Spain, for her international work and for presenting the country to faraway places.
During those years, she was also a professor of sculpture at the Academy of Fine Arts in Munich.
https://www.guggenheim-bilbao.eus/la-coleccion/artistas/cristina-iglesias
1.5.4 Laurie Anderson
The American, Laurie Anderson, is an artist in different disciplines. She is a singer, violinist, poet, cartoonist, composer, film director, and experimental artist. Her work is a combination of music, projections, and reflections on politics and modern Western civilization.
Anderson was trained in violin and sculpture, but she perfected her technique and the possibility arose to make an exhibition of art projects in New York in the 70s, using very innovative techniques using technology and images.
During the 80's she managed to position herself as number 1 in the UK hit lists.
This artist has been a pioneer of the electronic music inventing new instruments that she uses during her concerts; for example, the violin that has a bow of tape instead of strings, and the suit with sensors that trigger diverse sounds of electronic battery. In addition, she also created a cane of the word, a long stick of 1.8 m controller that can access and reproduce sound.