Prioritising work
Having strong business management skills implies strong organisational skills allowing you managing your duties through wise planning, optimising your time, focusing on details and prioritisation and seeing your internationalisation process smoothly from early planning to final completion.
In other words, if you are able to prioritise your work, you will be able to:
Insight into time management
One well-known tool to use your time effectively and efficiently and to avoid spending too much time doing unnecessary or unimportant tasks is the Time Management Matrix helping prioritising your tasks and activities in a very clear way.
Stephen Covey's Time Management Matrix is simply a grid that allows you deciding which most important and urgent tasks you have by classifying them into 4 categories:
Urgent and important.
Urgent, but not important.
Not urgent, but important.
Neither urgent nor important.
The aim is to re-evaluate tasks that need to be done and free up time to focus on priorities.
By writing down all your daily or weekly tasks and then having a go at placing them in the grid according to the 4 categories, you will be able to re-order tasks and delegate tasks to others in order to improve your time management skills.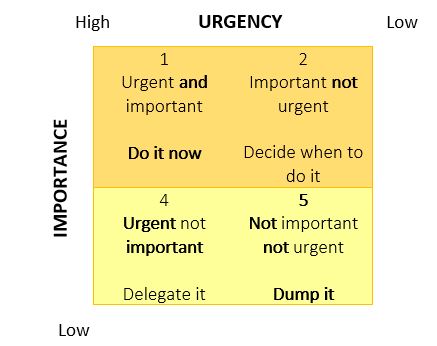 Important and Urgent Tasks (Quadrant 1) – these are the tasks you cannot avoid and must get done, often at the last minute and to a tight deadline because you have put them to one side due to poor time management. These tasks have suddenly become 'urgent' and now cannot be completed at leisure. The aim is to try and avoid tasks from being in this box on the grid. Such tasks may include crises, due deadlines on a project and health emergencies for instance.
Important but Not Urgent Tasks (Quadrant 2) – these tasks are the ones that will help you to achieve your aims and ensure important work gets done. They are not urgent because you have enough allocated time to get them completed, but they are essential to the success of the personal or professional goal. You should aim to invest the majority of your time on this quadrant. Such tasks may include planning, prevention and relationship building for instance.
Not Important but Urgent Tasks (Quadrant 3) – these tasks are ones that will prevent you from achieving your aims. They are often done at the last minute and take up a great deal of time, but are of no significance to your goal. These tasks are ones you can delegate to other people so you can concentrate fully on your important tasks. Such tasks may include an incoming phone call, emails and interruptions for instance.
Not Important and Not Urgent Tasks (Quadrant 4) – these tasks should be avoided where possible, as they are the tasks that simply waste time. Try to have no tasks in this grid of your Time Management Matrix and, if you do, try to work out how you can eliminate them. However, they do offer a work-life balance and downtime, but should be put at the bottom of the priority list. These tasks may include daydreaming, watching TV and trivial busy work for instance.
Once you have implemented the Time Management Matrix, you should make sure you review your goals regularly and re-prioritise tasks appropriately, whilst adding in any other activities you are completing that weren't on the list before.
Test your skills in the test for this unit!
Answer questions about this unit and save your score.
Go to test