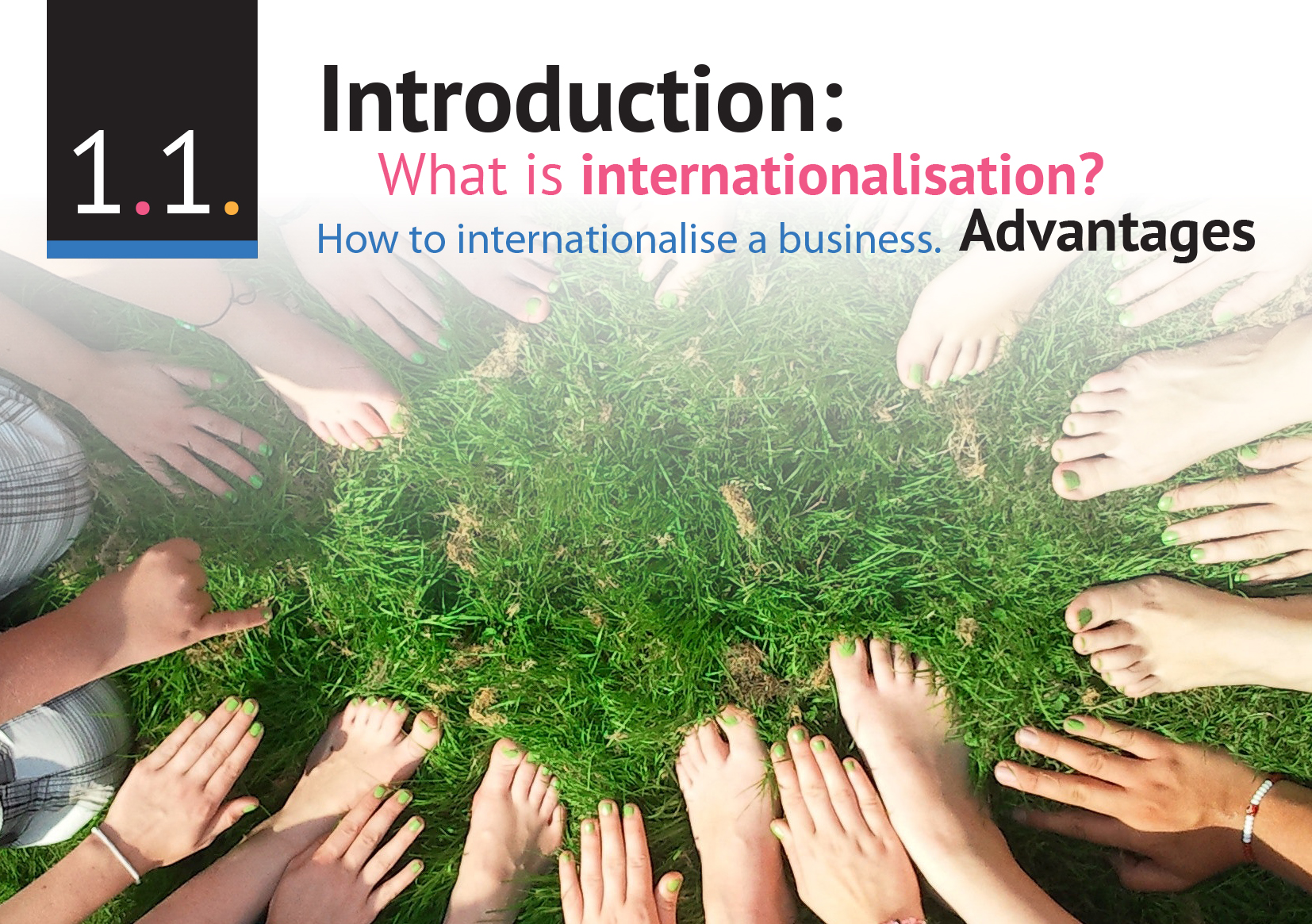 1.1.1 What is internationalisation?
Internationalisation is the process by which a company makes purchases and sales in another country (abroad). It is important to set apart the concepts of export and internationalisation. The first one consists of selling abroad the products or services developed by the company, while to internationalise consists of implanting our brand in a different market from the original one.
Moreover, exporting only implies selling outside the country, while internationalising entails further complexity. It's not just about selling to other countries; but also adapting your brand to foreign markets. Cultural issues have to be mixed together in order to be influenced by innovation since it's a two-way process that benefits people, creations and cultures.

https://unsplash.com/photos/nXt5HtLmlgE
Some reasons of the importance of cultural internationalisation are:
To promote the professional development of artists.
To give the possibility to discover new innovative techniques in other countries.
To develop new methods of artistic disciplines based on working with other social and cultural realities.
To create the opportunity to increase the profits obtained from the sale in other different countries.
To give access to new ways of financing: European and transnational funds.
To create new resources to enable the development of creation processes with higher quality, thanks to the transversal exchange of knowledge.
To become a communication platform to advertise new trends in artistic techniques.
To increase notions of knowledge in order to promote debates on social innovation from a cultural perspective.
To provide a positive brand image for the rest of the countries.
To facilitate sharing resources with artists and organisers between countries and to break down barriers posed by economic difficulties.
1.1.2 How to internationalise a business?
To understand it better, you will have to go deeper into some basic concepts of economics and market analysis.
On one hand, you must analyse the strengths and weaknesses, both internally and externally. On the other hand, you will have to analyse if the values of the company, and the chosen competitive advantage, can serve you in the country that you are going to implement your business in. Next, you will find some useful tools that will enable the success of your internationalisation process. The tools that will be explained further on are:
SWOT Analysis
The first tool you should use to get to know our national and international environment is a SWOT, a strategic planning model, that can be used in all types of companies, regardless of their size or activity. Once you set the objectives of your company, you will form the strategies that will lead you to its achievement. For that, this Analysis will enable us to identify the weaknesses and strengths of the organisation, analysing the aspects that influence the company but do not directly depend on it.
Competitive advantage
This tool is one of the most important aspects of your business since it is going to be those characteristics that differentiate you from the competition. Therefore, you should create a list with those characteristics that differentiate you from your competitors and look for an added value with which the customer feels identified. Thanks to this, you will be in a better position in the market and therefore, at the forefront of the consumer's mind.
PESTEL Analysis
The next tool that will help you to get to know better your company and environment will be the PESTEL analysis. This is another tool that can help you get to know the international environment for our internationalisation plan. The PESTEL analysis consists of the description of the context or environment of the company through the examination of various factors. This type of tool is very useful to know both local and international markets and thus be able to compare them, and it is a very simple tool to classify information.
Canva model for your business
Another useful tool you could use for the internationalisation of our company is the Canva model. This methodology is one of the best ways to easily explain your business idea or project to a group of people. As you already know, it is a very important part of the internationalisation process since you need to share your brand in another country.
1.1.3 What are their advantages?
One of the great advantages of internationalisation is that small and medium sized companies do not disappear, since when they start their activity abroad they become bigger companies, and the companies that internationalise become much more competitive.
Companies that internationalise can see an increase in turnover by 50%, compared to their non- internationalised competitors.
You should bear in mind that in times of recession, brands that have internationalised have greater capacity for survival and can even grow from it because they are more diversified.
The internationalisation also allows for consolidation of brand values because, in order to carry out this strategy, it is necessary to know and to examine the company thoroughly and what allows the company to develop values of decision, courage, strength or growth.
The advantages of applying the process of internationalisation in the company are:
- Medium and long-term growth
- Increased competitiveness
- Easiness in overcoming times of crisis
- Find new opportunities in potential markets
- Developing brand values
- Greater control of costs
- Government Incentives
Visit the next training unit
Next training unit