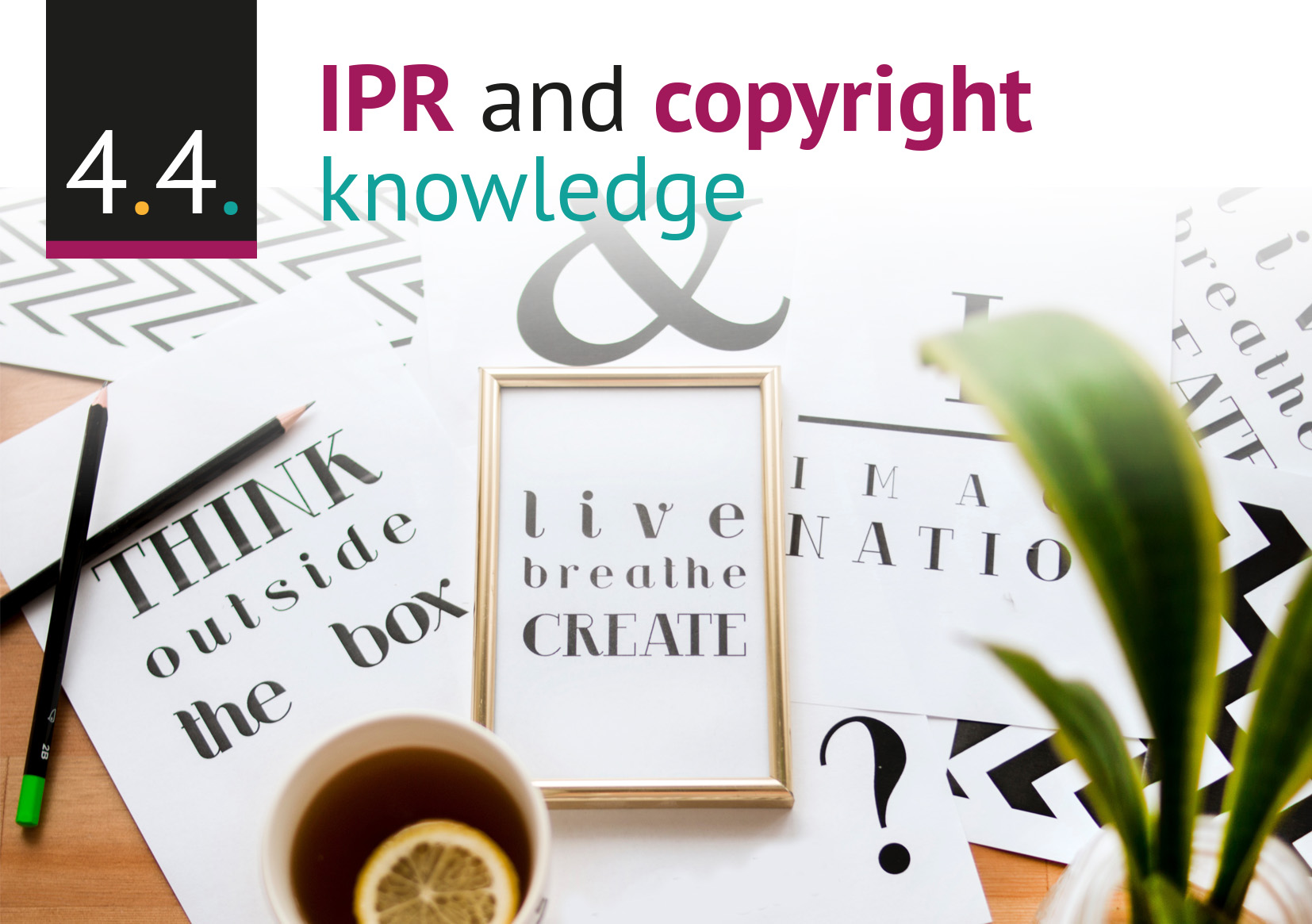 4.4 IPR and Copyright Knowledge
Intellectual property refers to creations of the mind: inventions; literary and artistic works; and symbols, names and images used in commerce. Intellectual property, very broadly, means the legal rights which result from intellectual activity in the industrial, scientific, literary and artistic fields. (World Intellectual Property Organisation, WIPO)
Thinking about your artistic or creative work, you should not forget about issues related to copyrights and intellectual property, especially as the key to gaining a competitive advantage (not only in the creative sector) has always been innovative activity and its proper protection. Intellectual property rights enable creators to derive financial or professional benefits from their rights. This principle is already reflected in Article 27 of the Universal Declaration of Human Rights which states that everyone has the right to the protection of the moral and material interests resulting from any scientific, literary or artistic production of which he is the author. The importance of intellectual property was recognised in the first international instruments in this field, the Paris Convention for the Protection of Industrial Property of 1883 and the Bern Convention for the Protection of Literary and Artistic Works of 1886 (both treaties are administered by the World Intellectual Property Organisation which was established in 1970 to ensure global protection of the rights of creators and owners of intellectual property rights and to ensure public recognition and adequate remuneration of creators and inventors).
Therefore, you should consider how to increase the profitability of your artistic work, how to use your intellectual resources as a source of income and how to transform an idea into a copyrighted item.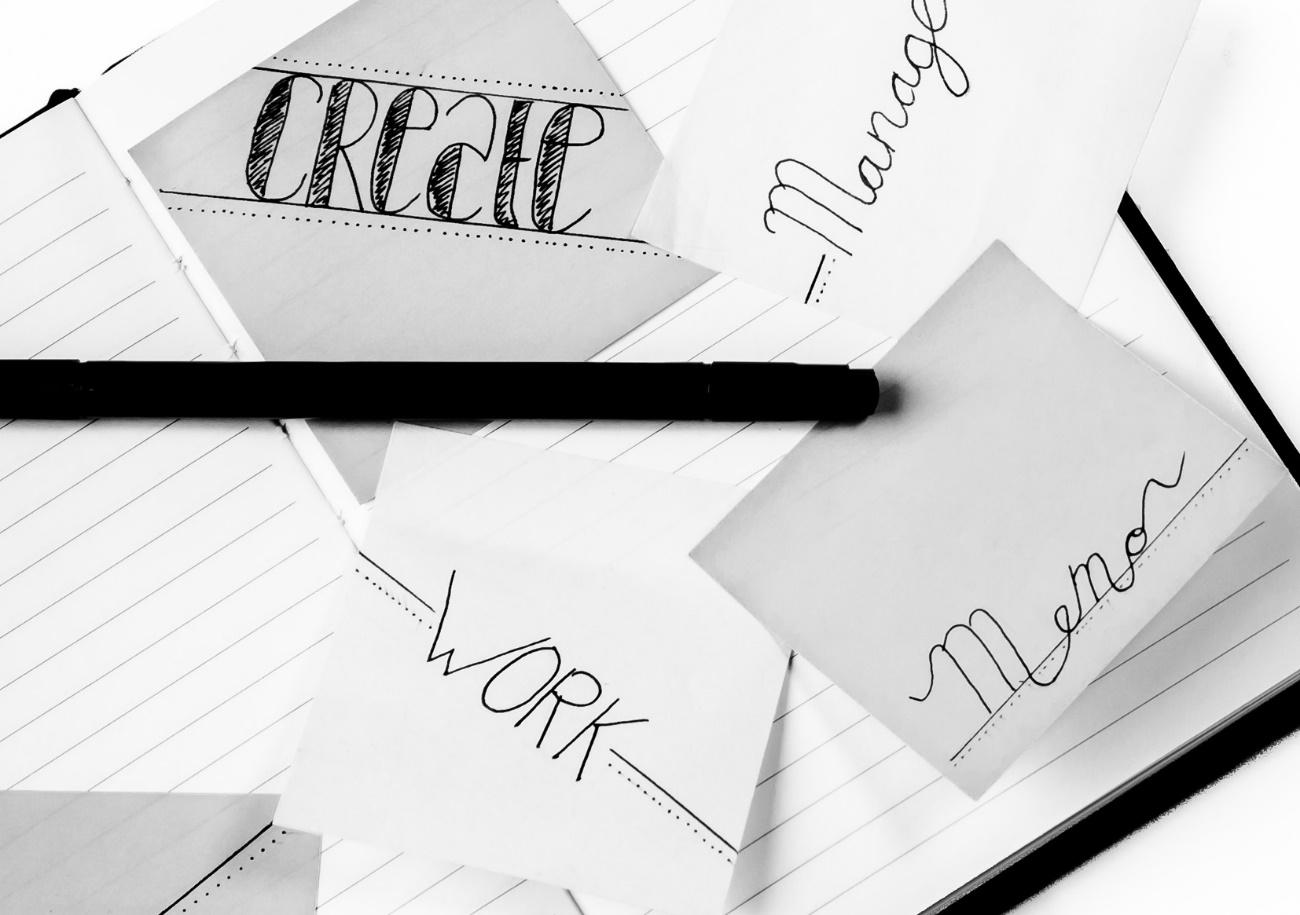 What is intellectual property and copyright?
Intellectual property is the result of creative work of a human being, which due to its originality and importance for culture, economy and society should be protected (it can be works (e.g. films, music and literary texts), patents or trademarks, but it is worth remembering that we all create intellectual property by drawing, photographing, writing credit papers and even posting in social media). According to a recent study by the World Intellectual Property Organisation (2018), intangible assets such as inventions, designs and expertise are worth almost twice as much in modern production as fixed assets and raw materials.
Copyright is an intellectual property right (IPR) that grants authors, artists and other creators protection for their literary, artistic and scientific production, generally referred to as works.
If you are a copyright owner or a copyright user, an artist or you run your creative business, the understanding of the copyright fundamentals is crucial. In essence, you must remember that safeguarding your own copyright and securing the permission of third parties before using copyrighted materials is not only legally required but also a good business practice. Copyright protects the conventional examples of copyrighted works (which include books, music compositions or films), but it can also protect a website, a brochure, a corporate video, newspapers, periodicals, printing, advertising, radio and television broadcasting, sound recording, music and audiovisual works, motion pictures and computer software.
For works to be protected by copyrights:
You must note that copyright law is not fully harmonised at the EU and international level; therefore, the national laws of the country in which the author seeks protection apply.
At the international level, minimum standards of protection were established by the Berne Convention. The EU adopted several legal instruments in the field of copyright. However, unlike in other fields of IP law, each of the 28 Member States has its own copyright law and policy.
What does copyright protect?
There is no exhaustive list containing the works that can be protected by copyright: the following works are generally covered by copyright at the international level:
literary works such as novels, poems, plays and newspaper articles;
computer programs/software and databases;
films, musical compositions and choreographies;
artistic works such as paintings, drawings, photographs and sculptures;
architecture, maps, plans and technical drawings;
sketches and three-dimensional works relative to geography, topography, architecture or science;
advertisements, sometimes applied art; and
flyers, commercial material, slogans, brochures and user manuals.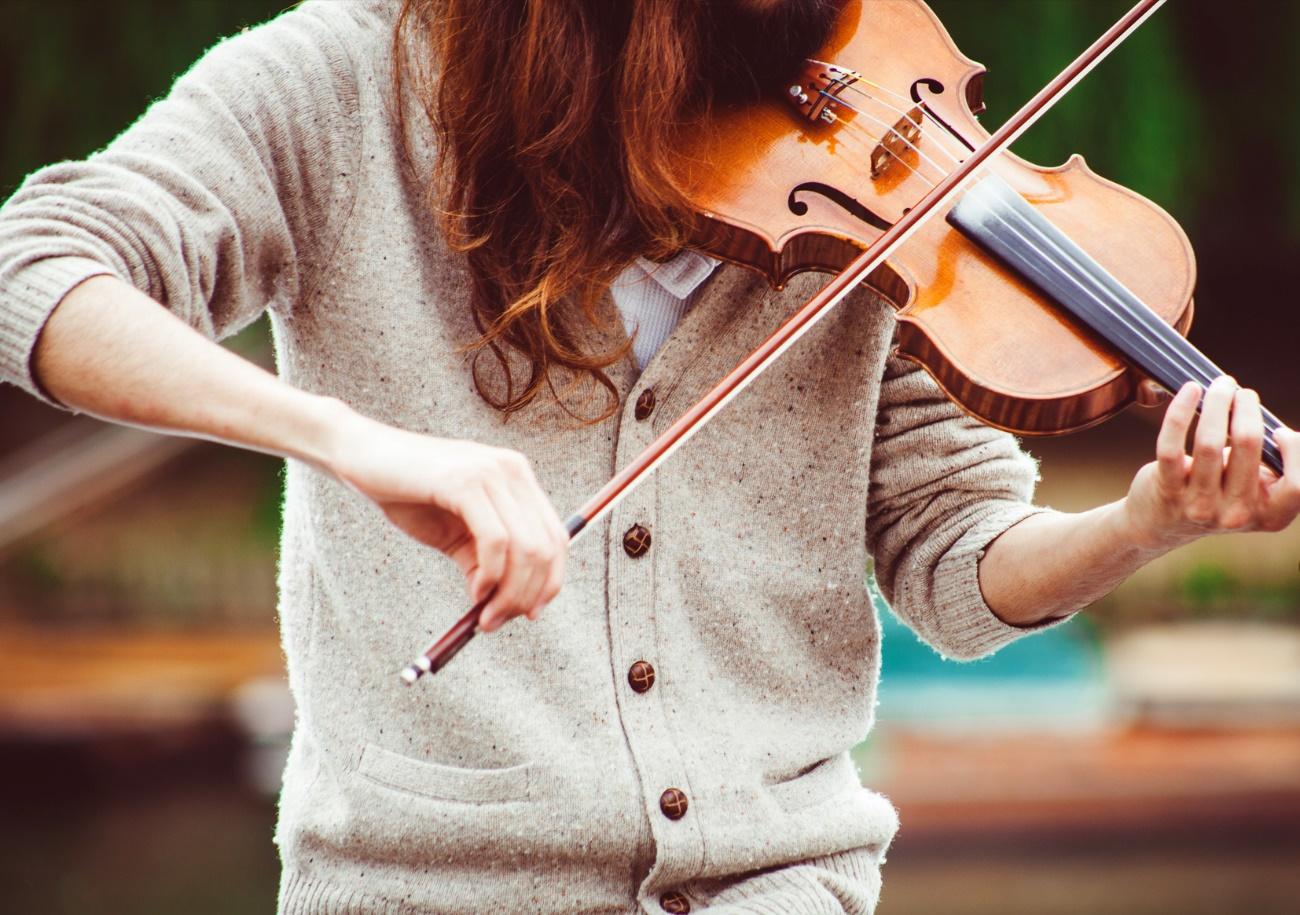 Types of right granted and time of protection
The copyright system allows authors to benefit commercially from their work through:
economic rights (they entitle the right holders to derive financial reward from the use of their works by others, including the right to reproduce and publish the work); and
moral rights (they entitle the right holders to claim authorship and prevent mutilation/deformation of their work. They are usually non-transferable, but—it is worth remembering—they are not fully harmonised, so their scope may vary in every country).
Some examples of economic rights:
right of reproduction (e.g. to make copies of the work such as printed publications or sound recordings);
right of distribution (e.g. to distribute copies of the work);
right of fixation (e.g. to record the work on, for example, a CD or DVD);
right of communication to the public (e.g. broadcasting via radio, TV or Internet);
right to perform the work publicly (e.g. to authorise live performances of the work such as in a play); and
right to make derivative works (e.g. to authorise modifications, translations, adaptations such as turning a novel into a screenplay, or other new uses of a work);
Term of protection
While in many countries moral rights have no time limit (they last forever), economic rights are usually limited in time. The minimum duration of protection was set by the Berne Convention: it is the author's lifetime plus 50 years after their death (but in many EU states the protection is prolonged to 70 years after the author has passed away).
Some particular rules are applied in the EU also to:
audio visual (cinematographic) works: the term of protection is 70 years after the death of the last of the following: the principal director, the author of the screenplay, the author of the dialogue and the composer of music specifically created for use in this work; and
photographic works: in certain EU Member States, if a photograph does not meet the threshold of originality, it is considered a simple photograph (it enjoys a shorter copyright protection).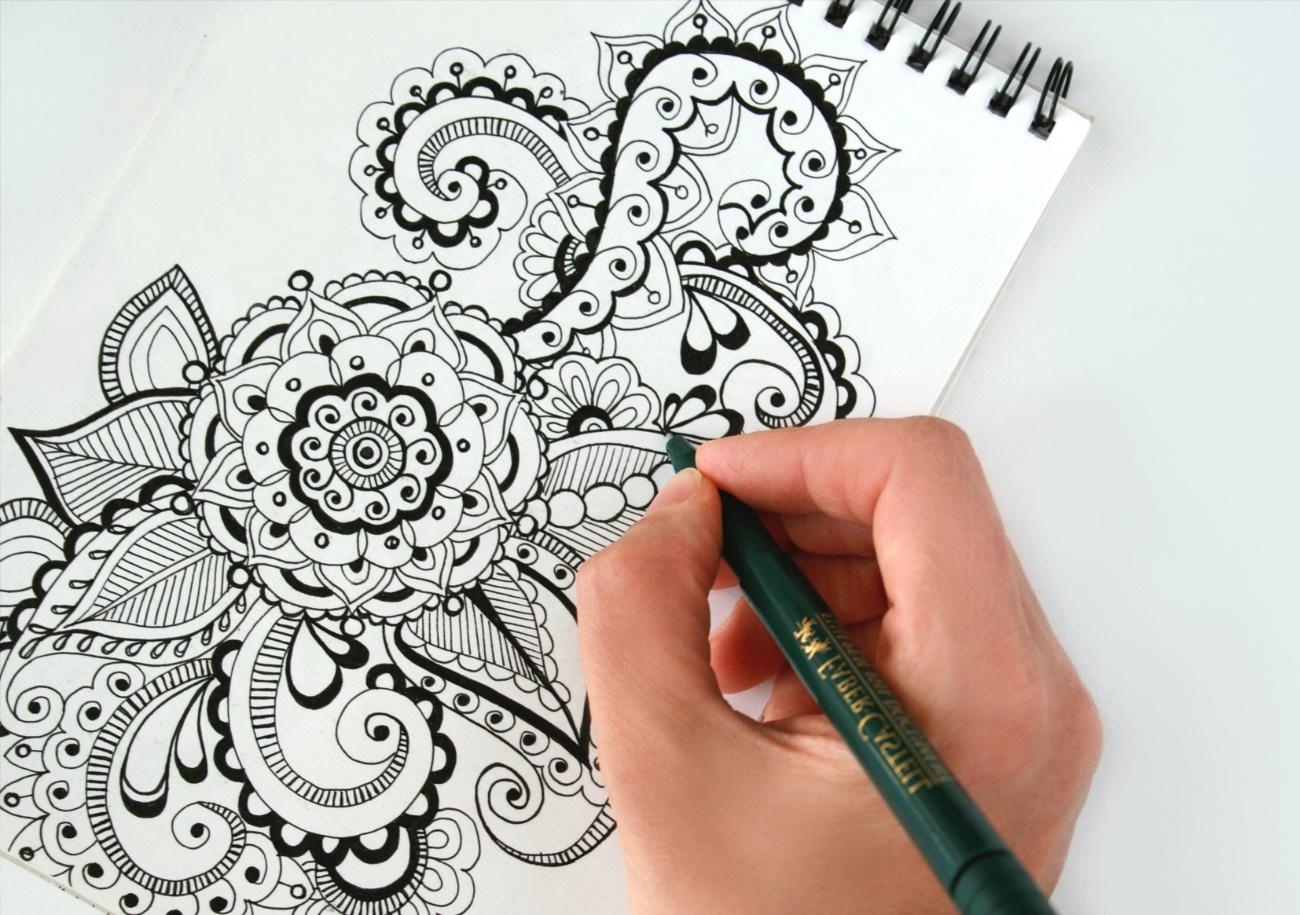 Neighbouring or related rights
Neighbouring rights (also known as related rights) are the rights which, although related to copyright, have a specific subject matter and protect the interests of certain right holders other than the work's author, such as performers, producers (e.g. of films), broadcasting organisations and publishers.
These rights are regulated at the international level by the Rome Convention: it establishes a term of protection of 20 years after the end of the year in which:
the fixation was made (for phonograms and performances incorporated in them);
the performance took place; and
the broadcast took place;
Like in the other cases, the national laws usually provide for a longer term of protection (e.g. 50-year term for phonograms and performances in the EU).
Licensing
A general rule is that every commercial use or exploitation by a third party of copyrighted works requires a licence or an assignment of rights from the rights owner.
A copyright licence is an official permission given by a copyright holder (the licensor) to the user of its copyrighted work (the licensee), usually by means of an agreement, allowing the licensee to use the copyrighted work.
A licence may be set on an exclusive or non-exclusive basis; it can be limited to:
a certain geographical territory;
a specific period of time;
requirement that the rights are only exercised in a specific manner; or
through certain media, allow a certain use of the work, etc.
Types of copyright licences:
exclusive licence: this licence excludes any other potential licensees in the scope of exclusivity, and the licensor also cannot use the intellectual property;
sole licence: and exclusive licence, but the licensor generally retains the right to use the intellectual property; and
non-exclusive licence: a licence that can be granted to as many licensees as the licensor wishes.
Assignment
In most EU countries (but except Germany and Austria, for example), a sale/transfer of copyright to ownership from a copyright owner to a third party is allowed. To do it, an assignment agreement is obligatory; this is a type of an agreement under which the copyright holder (the assignor) transfers its copyright in a given work to the assignee that becomes the new owner (copyright assignment may take place, for instance, when an author chooses to transfer copyright ownership to a publisher that will distribute the work to broader audiences and pay a monetary remuneration to the author in exchange, usually in the form of royalties).
Copyright exceptions
In order to provide some balance and protect free expression, copyright law is construed in a way to allow everyday uses of copyrighted works needed by users and creators; these are copyright exceptions with some examples being:
photocopying/photo-reproduction;
private copying;
reproductions by libraries, archives and museums;
ephemeral recordings made by broadcasters;
reproduction of broadcasts by social institutions;
illustration for teaching or scientific research;
reporting by the press on current events;
quotation for criticism or review;
use for public security purposes;
use of public speeches and public lectures;
use of works of architecture or sculptures in public spaces;
use for advertising the exhibition or sale of works of art;
use for the purpose of caricature, parody or pastiche; and
use for the purpose of research or private study.
It is important to remember that the national copyright laws may differ from one another in relation to copyright infringement exceptions in every country.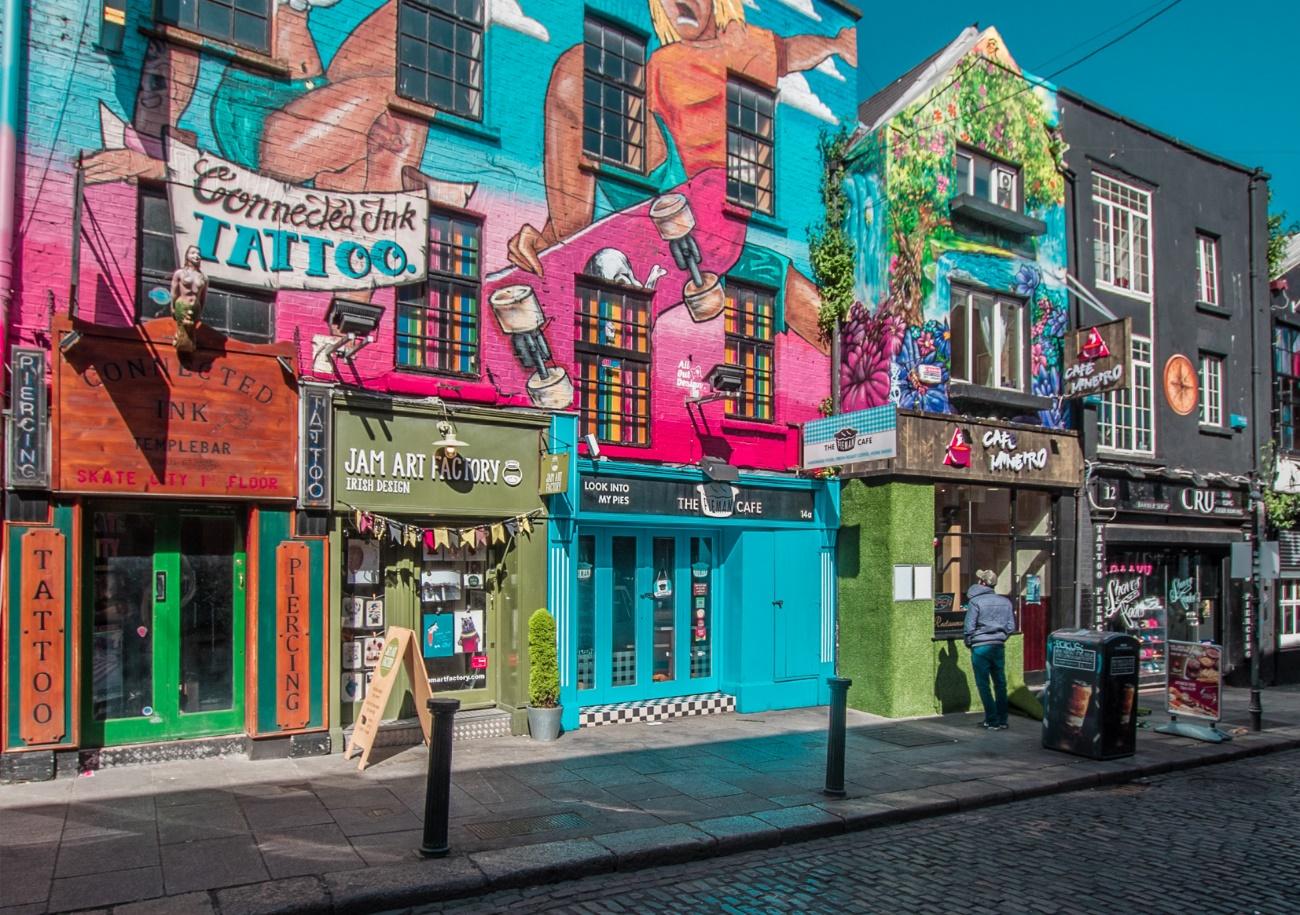 What is CREATIVE COMMONS?
It is a non-profit organisation established in 2001 that supports the balance between full protection of copyright and unrestricted use of the work of others. Its main objective is to provide an alternative to the existing system of copyright protection; it promotes the distribution of works among authors under Creative Commons licenses based on the certain rights reserved formula where the limits of permitted use are broader and clearer than those set in the all rights reserved rule (which is characteristic of copyright law).
Creative Commons respects the right of creators to determine the extent to which they wish to share their work with others. In addition, it encourages the creation of a resource of cultural goods whose assets can be freely exchanged and changed.
Organisation's website: https://creativecommons.org
Test your skills in the test for this unit!
Answer questions about this unit and save your score.
Grow your knowledge and receive recommended modules!
Take me to the test
Visit the next training unit
Next training unit