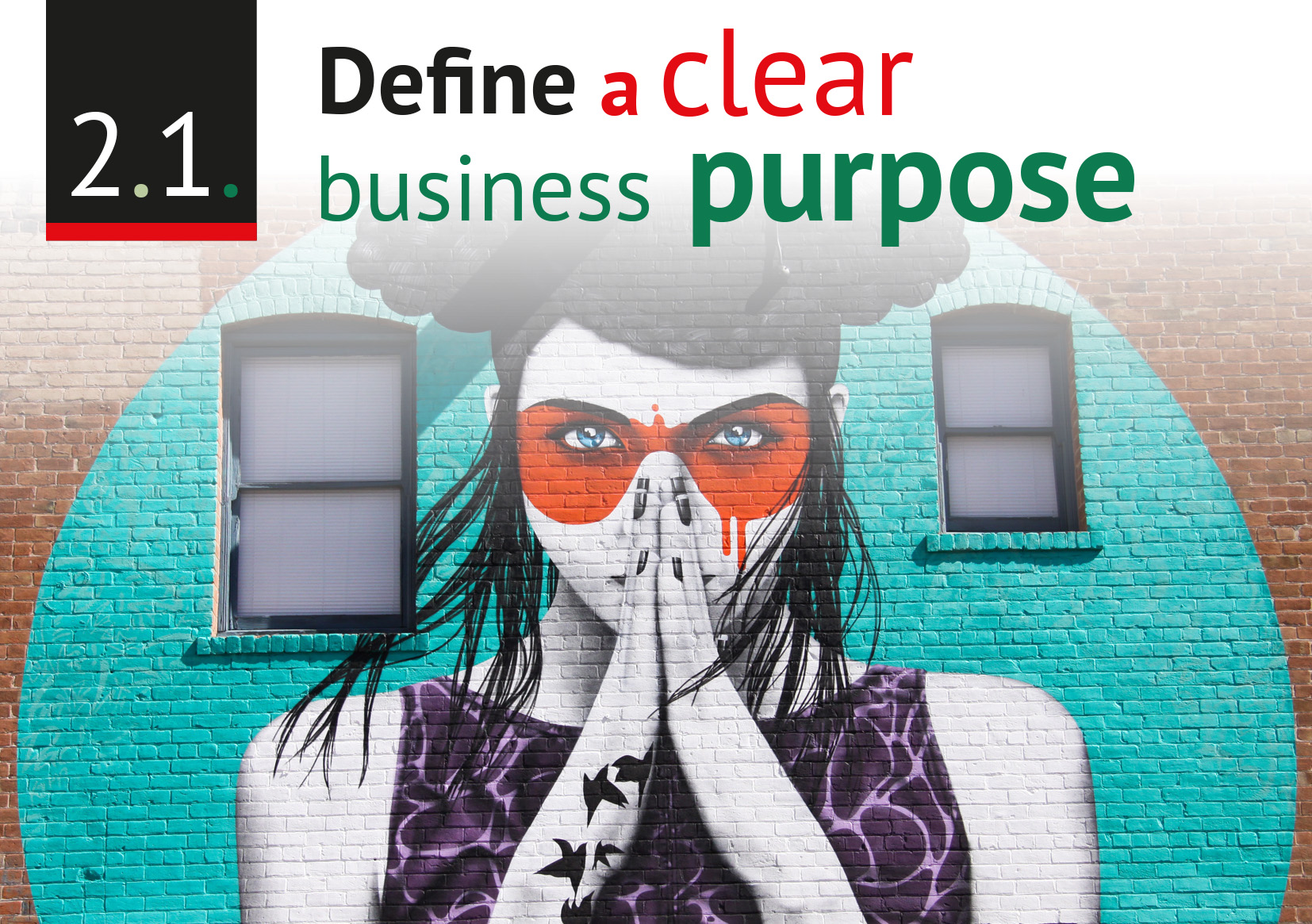 An effective Business Management strategy is crucial to be able to articulate and reshape new business opportunities, in order to design and implement innovative projects and execute management tasks in global contexts, which is particularly needed within CCIs sectors.
In this module, you will learn, reflect and apply specific business management strategies and tools, which will help you in internationalising your creative and/or cultural business.
To be able to properly position your business, its purpose has to be very clear.
A company's purpose can be expressed in different ways. It is mainly through its missions and visions that could represent the company's ultimate and clear strategic goal that everybody follows.
This is needed to get a good cultural fit with strategic positioning.
Envisaging your vision and mission means focusing and gaining a clear direction in moving your business from where it is now to where it would like to get to.
Your very first step is the envisioning; this involves thinking about "the Why", the purpose of your business, which will help you in putting your business into perspective.
Then you shall move on to your mission that shapes your goals for your business: "the What" you do, you expressly well do better or more than other businesses and that will distinguish your business.
Having documented the goals, then you can move on to your initiatives and all Activities. For each goal agreed on, you need to articulate the activities you and your business will undertake to realise each goal.
Having done all that, execute by having timelines for the achievement of each initiative. To support you in execution, you might refer to a group of friends who you trust and who are professional enough to respect and value your business aspirations but also comfortable enough to ask you the tough questions about your business.
Internationalisation strategies should be defined and aligned with institutional mission, vision and values.
Mission and vision are typically communicated in the form of statements from the organisation answering questions about who we are, what we value and where we are going.
Here is the example of Google's Visions and Mission statements.
Having said that, establishing the mission and vision (and obviously values) of your business is critical to setting its specific and clear direction, especially throughout the internationalisation process of your business.
So, let us explore the Vision and Mission statements core details:
A vision statement describes your business as it would appear in a future successful state. In other words: "if your company were to achieve all of its strategic goals, what would it look like 10 years from now?"
An effective vision statement is inspirational and aspirational and creates a mental image of the future state that the organisation wishes to achieve. It should challenge and inspire employees.
In drafting your Vision statement, ask yourself:
What is unique about doing business with your brand?
How would your customers describe your brand?
Where do you want your company to be in five years?
A mission statement explains your business' reason for existence, describing what it does and its overall intention. The mission statement supports the vision and serves to communicate purpose and direction to employees, customers, vendors and other stakeholders.
In drafting your Mission statement, ask yourself:
What are the specific market needs my company exists to address?
What does my company do to address these needs?
What are the guiding principles that define my company's approach?
Why do customers buy from me and not my competition?
Watch this video explaining how to determine your mission and vision
2.2.1. Guidelines and worksheets to develop your business Vision and Mission Statements
Vision Statement

Mission Statement

Questions to answer

· Why does your business exist?

· Where do you see yourself in the future?

· What are your long-term core values and plans?

How do you want society to view your business?

· What are your responsibilities and commitments to your clients?

· What is your business culture?

How will you practically accomplish your vision?

Time frame

3 – 10 years or more in the future.

The present plus 1 – 5 years in the future.

Purposes

Direct major company decisions.

Help form the mission statement and operational objectives.

Help direct daily, operations decisions. Serve as a guide in terms of customer service and goals.

Key points

Your vision statement should give customers, partners, future employees and society a clear image of your company's purpose.

Company culture and values should be clear in your vision statement but should provide room for growth since it may change over time, but not much.

Your mission statement should differentiate you from other similar companies.

· Why is your idea better?

· How will you deliver more timely products or higher quality services?

Your mission statement may change as your market shifts or your business expands.

Wording

Use strong, vivid words to communicate your vision. A vision statement should be inspirational and practical.

Be concise in your mission statement. Communicate your main idea in one or two powerful sentences.
Worksheet to develop a Vision statement

Tips: You can use the following worksheet to generate your business Vision Statement. Write down your answer to the questions and after you have ideas, you can then synthesise these ideas and weave them into your business Vision Statement.

What would you like your business to become? (the best in …or a leader in … or internationally recognised for…)

What would you like your business to strive for? (What reputation? What level of excellence?)

What would you like your business to look like in the future?

Integrate the above information and compose your business Vision Statement:
Worksheet to develop a Mission statement

Tips: You can use the following worksheet to generate your business Vision Statement. Write down your answers to the questions and after you have ideas, you can then synthesise these ideas and weave them into your business Mission Statement.

What are the primary functions and activities that your business performs?

Why do you perform these activities/What is the purpose of your business?

For whom does the business conduct the activities?

Integrate the above information and compose your business Mission Statement:
Visit the next training unit
Next training unit