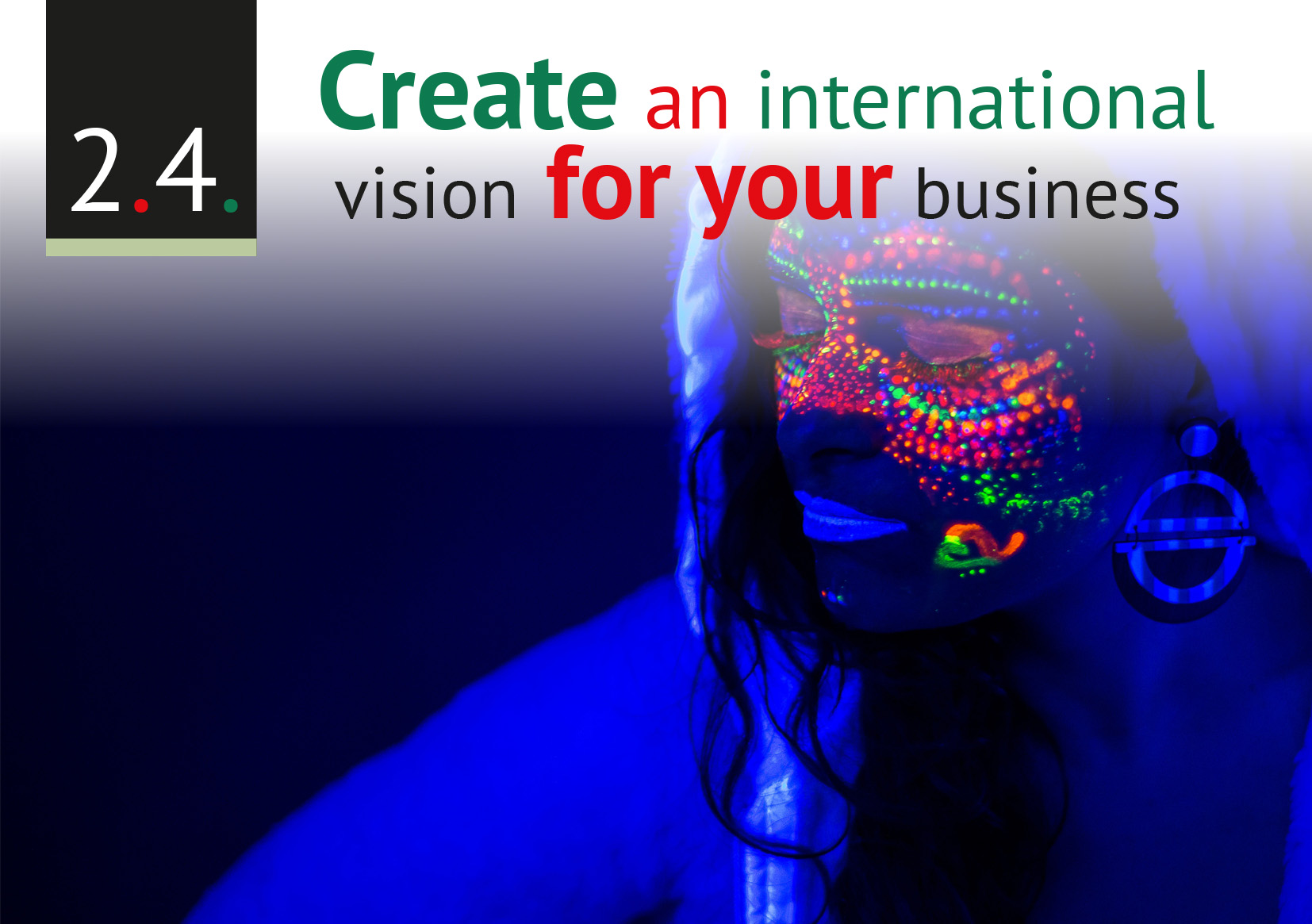 In order to gain an effective international vision of your business, firstly you need to know that the main steps throughout this exciting journey are:
That means that you need to:
Evaluate and assess the overall health of the business that can help you identify potential problems
Develop an Internationalisation Strategy & Action Plan that describes how international opportunities will be realised and help:
- Prioritise markets and partners, including a list of regions and cluster organisations with the potential for collaborations
- Develop marketing and branding of the cluster organisation to improve image
- Utilise networks and tools to identify potential partners and create links
Implement training courses and training materials as well as staff exchanges and mentoring.
Identify and select your potential Win-Win partners to support your internationalisation process.
- Build strong interpersonal relationships to develop successful collaboration and work with partners who share the same goals
- Be very clear on project objectives and outcomes
- Involve the real decision makers and address the real needs
- Use social networking platforms
Implement projects because this will support your business to open and consolidate new horizons over your national borders.
Develop and sustain networks at international and local level to overcome the barriers to your international expansion and to catch opportunities.
2.4.1. SWOT analysis: example and worksheet
To take the very first steps, you can perform a SWOT analysis. This is a strategic planning tool that will guide you throughout the simultaneous assessment of four different aspects:
Company Strengths
Company Weaknesses
Opportunities associated with different foreign markets
Threats implicit in the different options.
These four aspects must be considered together because potential market opportunities may "disappear" if the company does not have sufficient resources and the skills necessary to exploit them.
Similarly, a particular market selection could be "vulnerable" if motivated only by opportunities, without taking into account any of its weaknesses. Such actions could also cause the company to inadvertently amplify negative effects of associated threats and risks.
Only the integrated development and presentation of the four SWOT elements will ensure that any negative interrelationships are not underestimated.
Let us take a quick look again at each element of S.W.O.T.
Strengths

Internal things that your organisation is doing well.

What is your organisation doing well?
What is its competitive advantage?
How does it meet your clients' demands?

Weaknesses

Internal things that your organisation can improve.

What should be improved?
What is not working?
Where is the organisation spending too much?
What prevents products/services from selling?

Opportunities

External factors that your organisation can take advantage of in order to improve.

Can your organisation expand in your current markets?
What other markets can it expand into?
Is there a growing demand for the products or services being offered?
How can technology improve your business?

Threats

External forces that could harm your organisation.

What challenges does or will you face in the market?
How does the economy impact profitability?
Has changing technology negatively impacted your organisation?
Example
Your SWOT analysis worksheet
Helpful

to achieving the objective

Harmful

to achieving the objective

Internal

Strengths

·

·

·

Weaknesses

·

·

·

External

Opportunities

·

·

·

Threats

·

·

·
Visit the next training unit
Next training unit