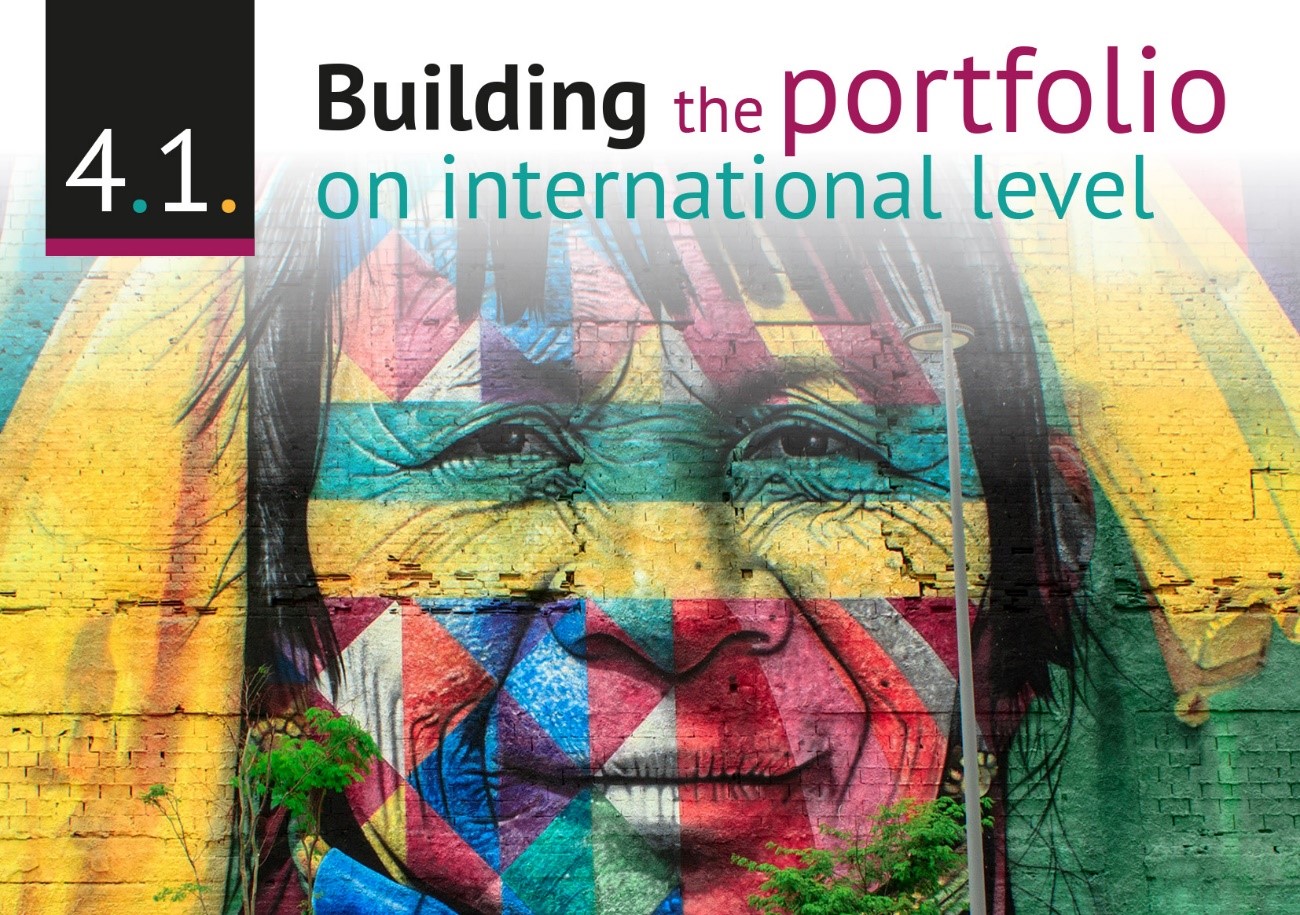 4.1 Building the Portfolio at the International Level
Success in the art world or creative sector depends on multiple factors. Talent or skills are important, but marketing becomes equally important, and sometimes it is just a stroke of luck. Although you cannot control the latter, you can develop your own marketing strategy (for more information, see 🡪 Effective Marketing Strategies: International Marketing), and a good presentation of your work, that is, a portfolio of works, is one of its more important components. It enables you to show all your good points and encourage prospective clients to learn about your offer.
Thus, a professional portfolio is one of the essential components in the life of a person working in the cultural or creative sector. An artist or a creator should not use a CV or a cover letter, because the specific nature of their work requires an equally specific way of presenting their experience or professional achievements. According to the Polish Wikipedia definition, 'a portfolio is a file (also in a literal sense, or a binder) with examples of artist's works, and in a broader sense a presentation of the achievements of a person or company, e.g. a file containing samples, examples and images of final and complete works that can be used as a basis for assessing their skills, ability to work in a given position or to perform a given task.'
owever, when you develop your creative and artistic activities at the international level, you might consider an electronic portfolio, one that a client on the other side of Europe will be able to find easily or that you can send quickly across the world, e.g. as an attachment, to a person potentially interested in cooperation. Note, however, that the very preparation of your portfolio contributes to reflection on your own work, raises awareness of your oeuvre and supports the identification and recognition of your own competences. The Internet is one of the cheapest and most effective channels of promoting artistic work. It allows you to reach your audience: to have direct contact not only with clients, but also with fans who currently play a growing role in the development of the artistic career. A visit to the artist's profile in social media is often the first and most important interface, or a touchpoint, between the audience member and the artist or creator, so it is extremely important that your online portfolio contains all the necessary information, including contact information, and is regularly updated to provide new, attractive content.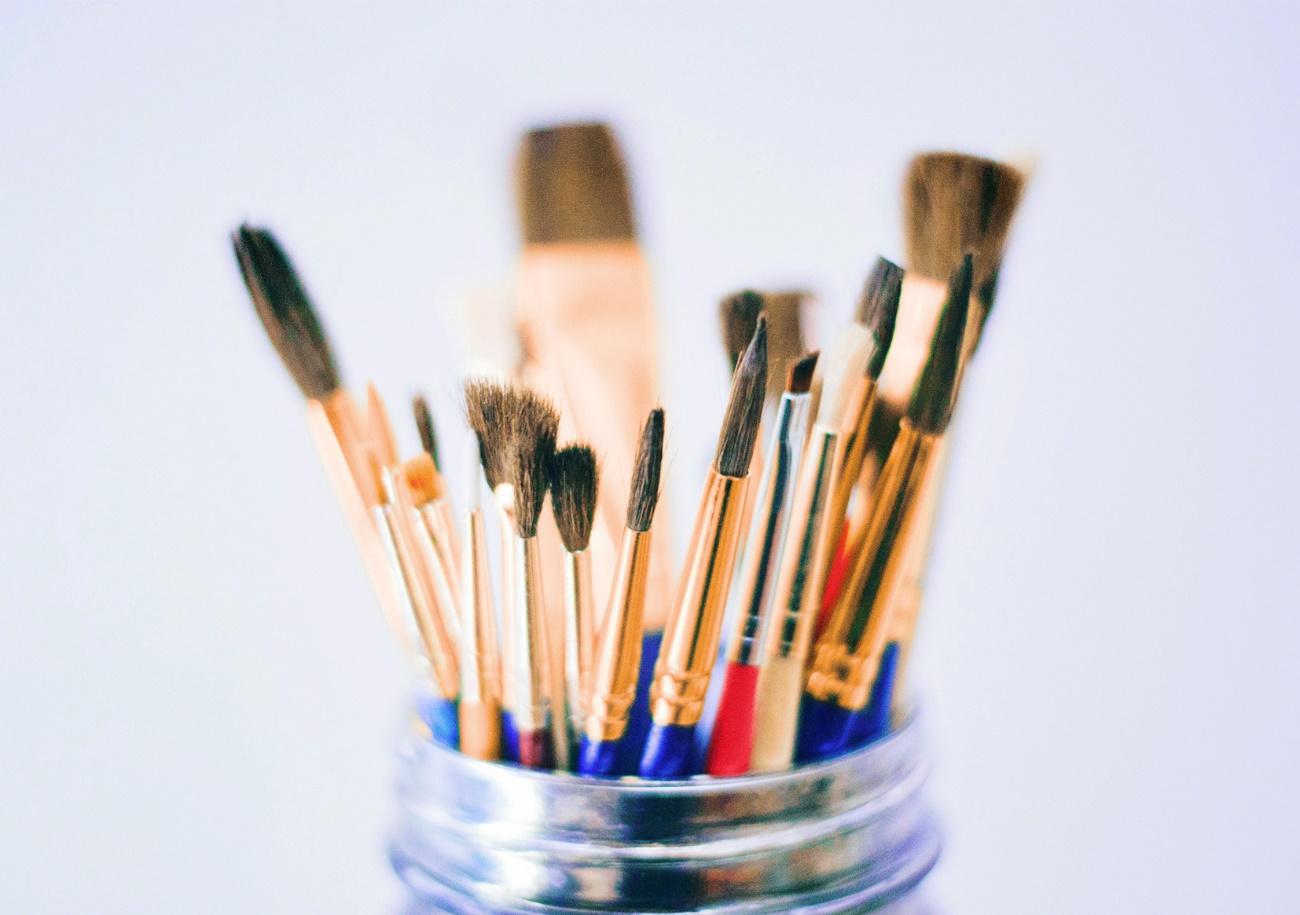 https://www.pexels.com
Online portfolio
Thus, considering international career, you should prepare an online portfolio (instead of its conventional, or printed version).
PORTFOLIO

1.

your own, original website built from scratch (or using popular CMSs)

2.

a PDF file ready to be sent to a prospective client, e.g. with links to social media channels where they can see more of your work, including online galleries or such channels as SoundCloud or Spotify

3.

using platforms that enable publishing of works (although ready-made websites have certain limitations, unfortunately), channels like YouTube and Vimeo or social media like Instagram and Facebook
This section of our Global FemART Academy platform focuses on building a basic portfolio; to find more links to useful websites, channels and streaming platforms (depending on the sector) which are recommended, go to 🡪 Theory on Business Development and Portfolio and the 🡪 IT section.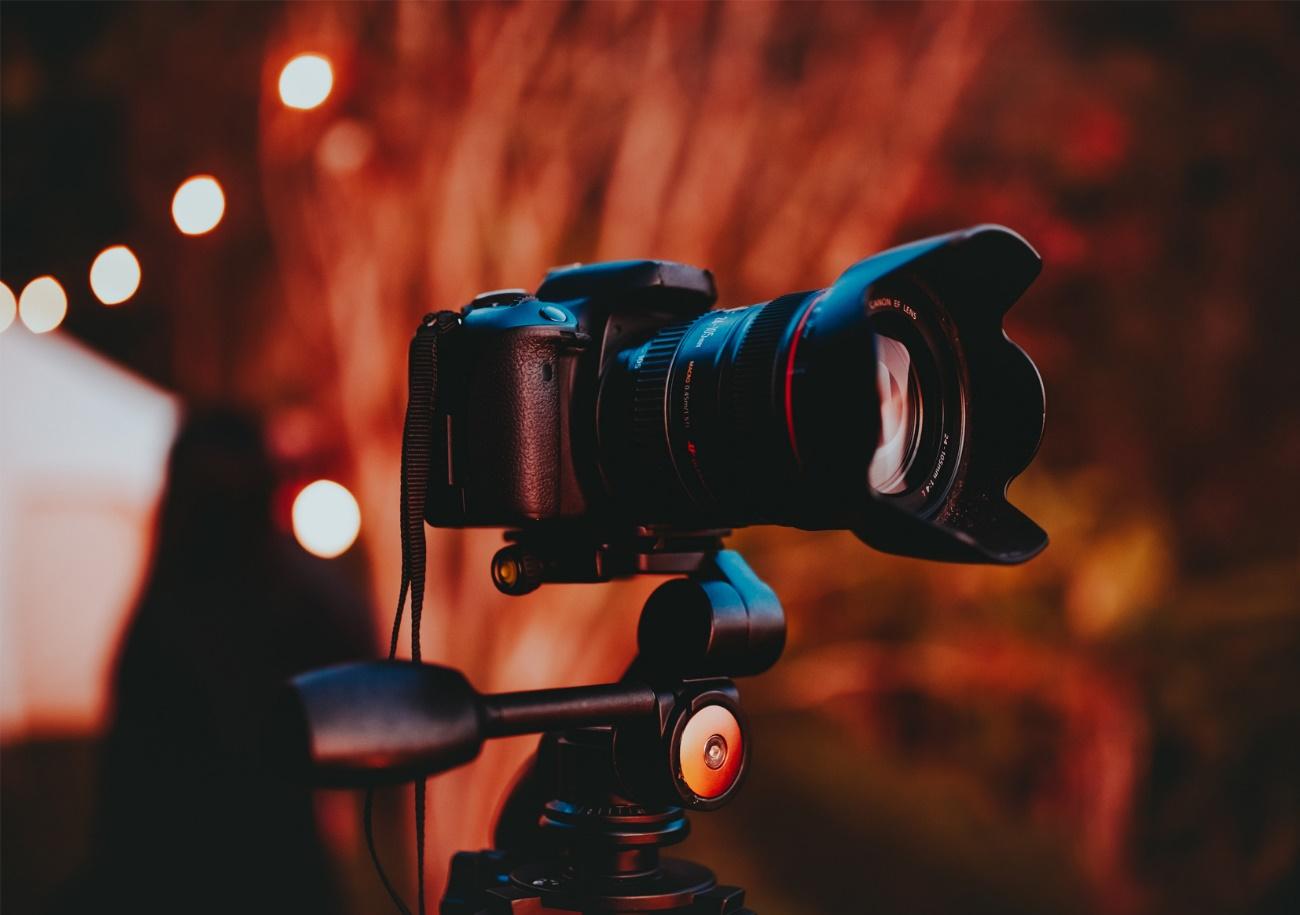 How to create an interesting and effective perfect portfolio?
Before we discuss this, it is worth considering whether you will use your full name or an artistic pseudonym: in both cases, note that it will function as your brand, or your personal branding; it will be—also through your portfolio—constantly promoted. And making this decision, you have to remember to be consistent in using it. Obviously, the choice of the name or artistic pseudonym depends, to a large extent, on the type of the cultural or creative sector you work in (more often, pseudonyms are used by musicians or designers, less often by painters or actors), as well as on whether you work as an artist or rather focus on developing your company (then, you might think about the company's logo).
To clearly define the goal you want to achieve through your portfolio:
do you want, first and foremost, to show your works or maybe a mission or a description of what you do, or maybe a presentation of your biography?
do you want to show your work to clients with whom you already have liaised or to reach the new ones?
do you want to build a community around your work (community management) or simply present your works?
who are your prospective clients, whether these are rather local companies (with presidents with a long 'tradition'), young entrepreneurs or corporations? Remember that all of them have different tastes and preferences
Portfolio components
With that in mind, now a few basic components that a portfolio should contain (both the conventional (printed) portfolio and the portfolio recommended in this section, i.e. online portfolio):
artist resume;
artist statement;
examples of works (gallery, links, etc.);
news/press releases;
references;
announcements (e.g. concerts, exhibitions); and
contact
https://www.pexels.com
Artist resume: it is the first, basic source of information about the artist, or the creator. It is important that it should be made diligently, yet it must be brief, but it should also include the most important components and oeuvre. Depending on the sector, it will include and highlight different components, so it is difficult to give a recipe for success to develop it (e.g. for painters, it will usually have information about their university (also the year of the degree) and the field of study, the studio where they practised, more important achievements such as scholarships and internships, while musicians will write in what orchestras and with which musicians they have played so far, but the biography of computer animation makers will be completely different, the more so that often they acquired their competences through informal education). Working on this part, remember the goal of your portfolio (e.g. visual artists considering selling their works to auction houses or galleries should include their date of birth as it is an important point of reference for investors/collectors: based on age and oeuvre, a prospective buyer or gallery owner may evaluate the course of their artistic career. The name of the art school, the year of the degree or the professor's studio have a similar effect since such information is particularly important for people investing in art, giving a point of reference and enabling better forecasts about the progress of the artistic career).
A slightly different form of artistic biography is art resume. It is a form of a CV of an artist or creator; a list of their previous activities. It should be ordered chronologically: remember to list and organise the categories so as to maintain its clarity and enable the reader to navigate efficiently and intuitively. Often it is a PDF file that can be downloaded from the website (optional). For artists, the art resume usually includes the following:
education;
placements;
individual exhibitions, projects for clients, individual music projects (CDs released), working with music labels, etc.;
group exhibitions, participation in other musicians' projects, etc.;
other projects (publications, non-commercial projects, etc.);
awards, subsidies, grants, scholarships and award nominations;
internships; and
public collections.
This list is not exhaustive, nor is it obligatory, and will always depend the specific nature of the sector in which the artist or creator works. Remember, however, when you prepare it, to give consistent descriptions (e.g. describing exhibitions, you should follow the year, name of exhibition, place, name of the gallery/exhibition space, country formula). Another component that you should consider is the preliminary selection of your achievements, such as exhibitions, awards, distinctions, etc. (Not every exhibition or award should be mentioned; it is better to highlight the most prestigious ones or most important for other reasons.)
Artist statement: it is an original description of creative activity that introduces the specific nature and character of the artist's or creator's activities; it is a kind of the artistic creed. It can just be a few lines (or at most one page: it should not be a novel-like length), but it is worth remembering that the artist statement is the most intimate form of introducing your work closer to the clients, and it also works well in building commitment to the community of your audience and fans. Sometimes it is a few sentences about why you started to work, sometimes a few words about your own original artistic technique. Usually it contains information about the most important inspirations and motivations, ideas and topics raised in the creative process. The artist statement is to introduce the potential audience with individual perception and understanding of art by the artist; to give them a peculiar interpretational hint. If you represent a more creative (and slightly less artistic) sector, you also should think about your artist statement: you should write what you do, why you do it and who you really are on the website with the portfolio of both the agency and the freelancing graphic designer. Such a declaration or manifesto (the artist statement) often refers to short and long-term artistic goals as well.
Gallery of works: that is, presentation of works; it is the most important part of the portfolio. The choice of presentation depends on your artistic activities: in other words, you will show painting or sculpting, photographic or video projects differently than documentation of interactive installations or performances and even designing, etc. Preparing a musical portfolio, you have to consider whether you can include the whole pieces or just excerpts. Working on this part of your portfolio, remember to enable your audience to quickly and intuitively understand the presentation and to quickly figure out the order you propose. Therefore, you should pay attention to the following:
Working on this part, you should first of all select the works you want to show: it should present only the best works; the portfolio is your showpiece, so maybe there is no point in showing all the draft versions of the same project (unless you want to emphasise the process itself or the alternative versions are to introduce your client to a wide range of your skills). Particularly important is grouping . Its purpose is to bring a specific order and make it easier for the viewers to get to know the range of your capabilities. Depending on the sector, you can group your work according to different common denominators (e.g. to the technique or specific time periods). Descriptions are a complement contributing to the clarity of presentation. Working on your online portfolio, you should remember to describe the file you upload, e.g. firstName_last name_title_of_work_technique_dimensions_year; this makes it easier for a viewer, a journalist, a gallery owner or a collector to identify your works after they have downloaded them.
News and press releases: it is worth mentioning the publications containing your works or interviews. Posting scans of articles or press releases, it is good to remember to give the source (author, title of article, title of journal, number, year of publication, page numbers, etc.).
References: searching the web for information has become part of modern life, so if you want to build your professional portfolio you should ask a few trusted and satisfied clients to write credentials for you.
Announcements: this is a part which is particularly important in some creative sectors: it enables fans, clients and potential audiences to quickly find upcoming events related to your artistic career. This can be the calendar of your concerts, shows, other events, etc.
Contact: remember to keep your contact details up to date; this part usually contains your e-mail address and phone number, sometimes address of your studio and a link to your online portfolio (in the case of a printed portfolio/application) or other original self-promotional profiles. Sometimes you provide contact details to your agent or manager.
One more important rule to keep in mind is that your portfolio needs to be constantly updated!
There is one more thing left, the language. Obviously, you can make your portfolio in your mother tongue, but the chances of reaching international market audiences with it are slight. Therefore, you should consider preparing your portfolio at least in English (e.g. together with your mother tongue or as another version); optionally you can translate the most important components of your presentation, so that people who do not speak your language have a chance to get to know you and your work.
Start thinking about your portfolio (documenting achievements, collecting photos, projects, etc.) already at the beginning of your career, and if you have not done it before, start today.
Test your skills in the test for this unit!
Answer questions about this unit and save your score.
Go to test